I could basically live in a comfy knit skirt all summer long. Most days
I can probably be found wearing a skirt like this, with an old t-shirt
I've got laying
around and my Toms. That way, I
feel
like I'm wearing pj's, but it actually
looks
like I made some effort to get ready. With a skirt, life is just happy, breezy, carefree,
and let's be honest, wedgie-free. (hehe)
The gray skirt you see on the left was a lucky find at Target. It's one of my favorite skirts and a definite staple in my closet. It's very easy to dress up or down. I was intrigued by the unique cut of the fabric, so I decided I would try to figure out how to make my own version. To be honest, I didn't really have a plan start to finish. After each step, I was crossing my fingers, hoping it would turn out. Good news, it turned out! Hopefully this tutorial will help you think of some fun, new ways to make a skirt.

I chose a 3″ wide yellow waistband to give it some quirkiness.
(I bought mine at Ruffle Fabric a year ago… looks like its gone. Search Etsy though)!

It can also be worn so the waistband isn't showing, and any color can be worn along with the skirt.
So let's get started. I'll show you how I made this skirt!
Supplies:
1 yard knit fabric, with good stretch
1 yard lining, I like 100% polyester
1 yard thick elastic for waistband (or enough to wrap around your waist)
medical or freezer paper for pattern drafting
ballpoint needle for machine
machine, pins, rotary cutter, mat
opt: double needle for your machine
opt: serger
*There are some really great tutorials on the web for knit pencil skirts and other techniques. Rather than reinvent the wheel, I'll link to a few steps in their tutorial for your reference.
1. I drafted myself a pattern to create a knit pencil skirt. I used this amazing, in depth tutorial from Adrianna at Crafterhours. For this project, I don't think it was totally necessary to draft a pattern, I could have traced an existing skirt. But I just wanted to give her awesome tutorial a shot!
2. After I drafted my pattern, I retraced it onto medical paper. I flipped the pattern over so there wouldn't be a fold in the pattern, I needed the entire front and back piece.
3. I laid my copycat skirt on top of the paper and marked where the panels were on the skirt. I did this on the left and right sides.
Then, I used a ruler to connect the lines. Instead of tracing a skirt, you could most likely "eyeball" where you want your slanted panels to be and create your lines using this picture as a guide. There is no right or wrong measurement.
4. Once I had my front piece ready, I repeated everything for the back. Notice that my back is a few inches larger than the front. I love the customized fit I'm getting by using my own measurements (see step 1).
5. I didn't want an A-line skirt, so I rounded off the bottom edges just a bit. I actually wish I would have taken off just a little more! (Next time…)
6. Once your panels are drawn, cut them all apart. You should have 4 sections. Label them all with a number, and write front or back on each piece.
7. Time to pin your pieces down. I placed them on my fabric where the greatest stretch of the fabric would be going across my body. Granted, by slanting our pattern pieces, we're not totally sticking to all the rules of stretch and grain, but who cares! 🙂 Be sure to leave at least 1 inch between each piece, sine you'll need to account for seam allowances. Also, be sure to line the bottom edge of each piece exactly up to a stripe in the fabric (if yours has stripes). This will make it look… awesome!

8. Pin your pattern pieces down. I found it easiest to cut with a rotary cutter, mat, and ruler. I simply added 1/2 and inch for the seam allowance, by using my ruler. Do this on every single edge!
9. Once things are all cut out, you can line them up to see what your skirt will look like. Cool!
Remove your pattern pieces.
10. Now its time to sew your panels together. It's pretty basic, just sew right sides together for each panel. I sewed with a ballpoint needle in my machine, and used a slight zig zag stitch (set at 1). I used a 1/2 inch seam allowance, but next time I will try 3/8. You don't need to edge finish the raw edges. You can trim it down though, with pinking shears if you want.
11. Once your panels are all sewn together on the front and back skirt pieces, you can sew up the side seams. Place them right sides together. I tried to get all my panel seams to match up (they all matched perfectly except for one). Use lots of pins. Again, I used a small zig zag stitch and sewed at 1/2 inch.
12. I wanted to line my skirt since there are so many seams on the inside of it. I used 100% polyester that I found at Joanns for a couple dollars a yard. I simply cut 2 pieces the same width as my front and back skirt pieces, and 1 inch shorter. My lining does fray, so I used an overlock stitch for the top and sides of each piece. I hemmed the bottom by folding it over 1/4 inch, twice, and using my zig zag stitch. Worked like a charm.
13. Not pictured… sorry! I placed my lining piece inside my skirt, with right sides of each piece facing outward. Then I basted the top edge of my lining to the top edge of my skirt.
14. I measured my elastic around my waist. Make sure its snug but not too tight. Then I trimmed it to my size, and then sewed it right sides together, opened the seam, and zig zagged down each side to keep the raw edges from fraying. I used a yellow thread to match the elastic.
15. There are several ways to sew your skirt to the elastic. Visit Delia Creates for some great ideas! Not sure if I used the best method to pin it, but I made it work 🙂 I did not sew right sides together. I sewed the right side of my skirt to the wrong side of the elastic. Make sure it overlaps enough to cover the basting stitches.
16. I used a small zig zag and yellow thread. Sew and stretch the elastic by pulling it slightly as you go around.
17. Last step is the hem! tried on my skirt and decided where I wanted it to be, then cut off a little excess fabric. I used a double needle for the first time, thanks to Katy from No Big Deal and her great tutorial. I should have followed Delia's advice and used stay tape in the hem. Next time!
And guess what… that's it!!! I am so excited that my skirt turned out. I honestly had no idea if it would. Phew! And I love it and plan to wear it all the time 🙂
Please leave a comment if you make a skirt like this, I would LOVE to see it! Or, you can upload it to my Flickr page!
Thanks for visiting my blog!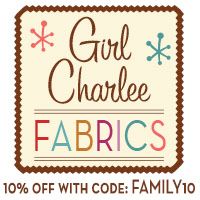 My knit fabric came from one of my all time favorite online fabric stores, and a great resource for all sorts of knits, Girl Charlee. It looks like this actual fabric is sold out, but seriously there are so many other fun stipes and prints. If you do happen to go shopping over there, use my code "FAMILY10" for 10% off your purchase. (Girl Charlee is a sponsor of my blog, but they did not ask or pay me to mention them. I just wanted to since I used their fabric and I LOVE it)!
I made this skirt as part of the Summer Sundress Series on one of my favorite sewing blogs,
Melly Sews
(you might remember her as one of our
Sew-vivor Champions
earlier this year)! The other ladies participating in this series are so incredibly fun and talented. I love sharing the same passion for sewing that they all have. It's fun to see all the different dresses/skirts that have been made so far.