Today, we have two great pattern giveaways, and some Sew-vivor prize updates! I also want to remind everyone that auditions are still open and going strong! There are currently 87 entries, and they are all lovely! It is going to be painful for the judges to narrow them down to only 10! Make sure to click on
this post
if you want to enter Sew-vivor!
Auditions end this Monday, March 11 and the Top 10 will be announced next Wednesday, March 13!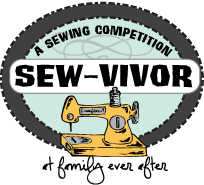 Giveaway time!!!

The following giveaways are for ANYONE TO ENTER! You do not have to audition for Sew-vivor to enter the giveaway, and they are open internationally. We have two companies offering some great PDF patterns. I recently discovered the beauty of a PDF pattern (you can print as many patterns as you need, and easily make more than 1 size). You can enter each giveaway separately. There will be 3 total winners, and they will be announced next week with our Top 10 reveal.
Our first giveaway is from…
Giving: Five PDF patterns to one winner
*
Go To Patterns
is an awesome company, started by my friend Andrea from
The Train to Crazy
blog. I love Go To Patterns, because there you can find super cute patterns designed by Andrea herself, and some other favorite sewing bloggers. Be sure to check out all the fun patterns! To enter, scroll to the form below.
Here are a few of the adorable patterns I would love to try:
Tiny Bubbles Dress
Whale Plush
Go To Leggings
Giving: Two PDF patterns to two winners
*Bonnie is the talented designer behind this company. I am impressed with the large array of patterns that she has for boys. Check out her great collection! Her patterns also come in PDF form. To enter, scroll to the form below.
Here are a few of her awesome patterns I want to try!
Inside or Out Pocket Pants
Rockin' Raglan
Pajama Party PJs
*The forms take a few seconds to appear.
*(If you're looking for the
Lots of Buttons
giveaway, that will be back on my blog again tomorrow. Previous entries have been saved. Thanks for your patience)!
a Rafflecopter giveaway a Rafflecopter giveaway
Our exciting announcements are that prizes have been added! There were 2 companies who emailed after last week's prize package reveal, and these companies are so awesome that I just had to include them! Please welcome our newest Sew-vivor prize sponsors,
Dharma Trading Company
(specializing in awesome fabric dyes) and
Nick of Time Textiles
(who have grrreat knits)!
Dharma Trading Company has added a $50 gift card for 1st Place, and a $25 gift card for 2nd place. Nick of Time's prizes are still TBA.
And last, I wanted to let you know that I'm guest posting on one of my very favorite sewing blogs today! Jessica, from Me Sew Crazy, is having a series all about designing with kids. I am so honored that she asked me to participate! Check it out here!
Here's a sneak peak of what my daughter made…