Hey friends! It's that time of year again… "Sew-vivor" is back, and today we're kicking off Season 2!!!
I waited until tonight to begin all the fun, since the real show "Survivor" premiered tonight.
Here is what my logo looks like: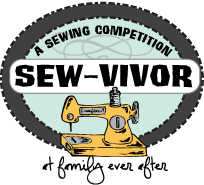 …patterned closely after the reality show's logo.
If you haven't heard of "Sew-vivor," first of all welcome! I hope you stick around the next couple of months to see what it is all about. It is a sewing competition I created last year, with actual contestants who sew projects that follow specific challenges (which will be unveiled next week). Their projects are submitted and subject to the public vote… and the last one standing claims the "Sew-vivor" title + some amazing prizes!!!
So, to get the buzz going, I am releasing the entire schedule tonight.
All the prizes, judges, and challenges will be revealed this month.
Everything "Sew-vivor" related takes place on this blog every WEDNESDAY.
So take a look, follow along, and take a moment to ponder…
Do you think you've what it takes to Sew-vive?
Stay tuned!
Sew-vivor Season 2 Timeline
February 13: The Buzz Begins!
February 20: Official Rules, Judges, and Challenges revealed
February 27: Prize Packages revealed and Auditions begin!
March 6: Auditions continue
March 13: Top 10 contestants announced
March 20: Round 1
March 27: Round 1 results
April 3: Round 2
April 10: Round 2 results
April 17: Round 3
April 24: Round 3 FINAL results!
*The main differences between this season and last season are:
-There will be 3 rounds instead of 4. (Making this a more realistic timeline and workload for contestants).
–Contestants will have 10 days to complete their projects (last year they only had 6 days. Voting will open on Wednesday and close on Friday night. The contestants who advance will be notified that night so they can get to work on the next round. The official results will be posted to the public the following Wednesday, thus keeping all Sew-vivor posts occuring on Wednesdays).
……………………………………………………….
If you have any questions, please leave a comment, where they will all be answered!
Keep in mind that all the rules will be posted next Wednesday (which might answer a lot of your questions).
Please feel free to check out last year's competition… the contestants were so incredibly talented!