I am "sew" excited to reveal the Sew-vivor Judges, Challenges, and all the Rules today. I am giving you the Sew-vivor information bit by bit, so that you have time to digest it and decide if you'd like to enter! Auditions begin next week! At that time, I will reveal to you what all the prizes are! Be sure to check out the entire Season 2 timeline on this post.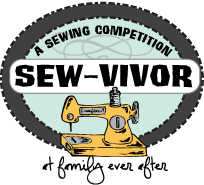 JUDGES
Say hello to the judges! Their job is to help me choose the Top 10 contestants who will advance to the competition portion of Sew-vivor. I have had the pleasure of meeting each of these ladies in person. Not only are they extremely talented seamstresses (each with her own style), but they are all incredibly kind, smart, and really fun to get to know. I definitely encourage you to check out their blogs!
If you'd like to audition for Sew-vivor, here's everything you'll need to know in advance!
Auditions begin Wednesday February 27, 2013.
–You may audition with ONE
sewing project. It can be a
nything you've ever sewn before, or you can
make something special just to enter. It must be made by YOU. It does not have
have to be your original idea or tutorial, and it doesn't matter if it
was made with or without a pattern. Machine and handsewing count.
Crocheting and knitting do not. Be sure it is your best representation of you,
your sewing skills, and your creativity!
–You
MUST have a blog to enter. It doesn't need to be a fancy or popular blog; it can even be your family blog. Please note that you will see increased traffic to your blog by entering this competition. Blogs are free to create on www.blogger.com.
–Big
Tip: Take good pictures!
Besides your sewing skills and creativity, presentation will play a big
role in a competition like this.
Large, clear pictures are appealing to the eye, and it is easier for the judges and audience to see and
appreciate detail.
–This IS open internationally! I love and value my international friends, and encourage to you participate! 🙂
–Entries will be accepted in the form of a link party, (see here for an example of a link party). There will be directions on how to enter next week.
–The
Top 10 will be chosen by the Sew-vivor judges, and will advance to
compete in the 3 rounds of Sew-vivor competition. (Judges will email me
their Top 15 picks, and I will tally up and average everything to
choose the Top 10). I am considered a judge this year, and my vote will count, in a fair and balanced manner, in all aspects of the competition.
–If you enter Sew-vivor, I encourage you to proudly post a Sew-vivor button on your sidebar!
If you make it into the competition round, you'll need to have the button on your sidebar for as long as you are in the competition. (Button codes will be available next week).
(Yahoo, now we're friends)!
The following weekly challenges will only pertain to the Top 10
who are chosen to compete in the actual competition. I
wanted to put them out there so you would know what the competition
will entail so you can decide if entering Sew-vivor is right for you or not.

COMPETITION RULES
The following weekly challenges will only pertain to the Top 10
who are chosen to compete in the actual competition. I
wanted to put them out there so you would know what the competition
will entail so you can decide if entering Sew-vivor is right for you or not.
–If you think that you've
got a chance of making it into the Top 10, you are welcome get a head start working on projects for the following themes for the 3 weeks of challenges at your own risk!
I am not responsible if you make a project but do not make it to
the Top 10! All projects submitted for the 3 weeks of competition
cannot have been made any sooner than Februar

y

20

, 2013. Do not
reveal them on your blog until they are revealed on
Sew-vivor.
–Contestants may use patterns and online tutorials for projects. When you
post your projects on your blog, you'll need to cite your
sources. If you create your own pattern, we'd love to see a tutorial in
pictures! Full tutorials will be featured on YOUR blog (giving you all the traffic).
–Projects will be revealed on Wednesday mornings 6am EST. Voting will be occur Wednesday at 5am-Friday at midnight PST. Advancing contestants will be notified via
email the following Saturday morning. They will not be announced on this blog until the following Wednesday at 7am. This gives 10 days to work on projects.
–This
means that contestants…. every project will need to be emailed to me by 6pm PST Tuesday night. You may submit 3 pictures + 1 paragraph describing your project. Pictures should be 500 pixels or smaller and paragraphs must be 300 words or less. You are welcome to send the HTML.
–You will be allowed to post the full tutorial on your blog, the day it is revealed on Sew-vivor. Hopefully, this will help you get lots of fun traffic to your own blog!

–Voting: Every week, there will be 2 guest judges. Their job may entail choosing their favorite project to get "immunity."
(It's like that on Survivor! That means that even if that project
receives the lowest number of votes, they cannot be voted off). The audience (readers) will also vote via an online poll. Contestants are allowed to rally votes from their family, friends, blog readers, etc. Each device is allowed 1 vote. The guest judge vote + the public vote will each counts as 50% of the entire vote.
–I RESERVE THE RIGHT TO MAKE ANY CHANGES ALONG THE WAY AS NECESSARY!
I commit to being fair and honest throughout this entire competition.
Be sure to stop by next week! You'll find out what the prizes are, with a recap of all the details, and your chance to audition!