Welcome dear weekend! Now that we have a 1st grader, I cherish the weekends so much more. All of us together under one roof for 48 hours. Nothin' better.
So. Now that I'm an official mom with an official school goer (because really it was mostly all fun and games around here the last 6 years– now we have to get serious with stuff like routines and going to bed early and using our time wisely and having a schedule)! I took it upon myself to revamp my blogging schedule so I wouldn't be such a crazy person. So here is the before and after:
Before:
Mon- Recipe
Tues- Tutorial
Wed- Series
Thurs- Things On my Heart
Fri- random post or project
Fri Night- Once Upon a Weekend
Sat- Giveaway or Guest Post
After:
Mon- Series
Tues- Project
Wed- Project
Thurs- Project
Fri- giveaway
Fri Night- Once Upon a Weekend
So it's not entirely different, you might not even notice (or care) about my changes. Buuuut, this new schedule is going to enable me to do things like keeping up with the laundry and potty training a little 2 year old… things that cannot go ignored for too long, you know. What I didn't like about my schedule before is that my tutorials only had one day on the blog and then were soon pushed away before I was ready… and the link party had 2 whole days on the blog. It just seemed a little backward. So now I have 3 days in a row to post whatever project, tutorial, recipe that I have ready. If it's super awesome then now I can leave it up for 2 or 3 days. Or if I have a slew of things, there's 3 days to post. There's a lot more flexibility with this, yay yay yay!
You might notice a couple changes here on Friday nights– more of a personal flair– and I hope you like it! I'm still as excited as ever to look at your projects, so keep 'em coming! (I won't be doing a Blog of the Week on my sidebar anymore… sorry! Just trying to simplify a little). I'm gonna quit numbering my link parties, cuz that just gives me a headache, and I will still be doing features, but not in an official feature type of way. You'll see what I mean 🙂 So, I'll see ya here, same place, same time (7:30pm eastern). And if I forget to schedule the party if I'm out of town or something, ah well. I won't be stressing about it!
Oh, and just because, I made a fresh new button.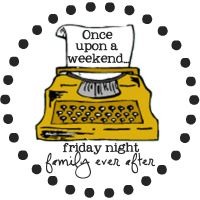 So here's to a new school year, a new season (I can't wait for fall)! and breathing a little more life into this blog 🙂 This week we were…
Missing: Now that we're 2 weeks into the school year, we are settling into a routine. But approximately 6.5 hours is a long time for my oldest baby to be away from home and I miss her every single second. Although the number of petty fights and arguments has somewhat decreased…. and I do enjoy more quality time with the other littles. I know its good for her to be at school, and every day we send her off with a prayer and a pep talk, and then I have to put my trust into something much bigger than me. It's not easy letting go!
Scheduling: I have poured over our new schedules for the school year, literally spend hours and taking extra care to write down what's important, leave time to play, remind myself to take vitamins, make chores a priority, etc etc. I will share in a few weeks after I mend the kinks. I love having a schedule. These are the years… every minute matters! My job (my family!!!) is the most important thing I will ever do, and I want to do it the best I can!
Watching: Politics. I can't stop watching politics. The whole reason we finally broke down and got cable tv was so we could watch the the debates, conventions, news, etc. and be up to date for this election year. I wait around all day for my husband to hurry up and get home so we can watch all the political shows together at night, which is really probably why I love watching politics so much 🙂 This was my favorite from this week…

Serving: Our city has dedicated the month of September to service! This is awesome! We had something big planned last Saturday, but ended up being too sick to participate. So instead on Monday, we took the kids around the neighborhood to collect garbage. Does that count? We'll be thinking of more ways we can serve. What do you do with your kids?
Baking:
Choc-oat Chip Chewies
. I was recently given a
Wondermill Wheat Grinder
. It had been on my Christmas list for 3 years. I have buckets of wheat berries in my basement. But last time I borrowed my friend's grinder, I broke it and had to have it sent in for repairs. So the happy ending of this story is that now I have my very own grinder to
break
use whenever I so please. I love grinding wheat. It makes me feel so happy and healthy and good inside.
Anticipating: Camping next weekend!!!!!! Eeeeee, I can't wait to eat this for dinner.
Giggling: This is seriously hilarious. My husband came home from work and asked me if I knew what a "brony" is. Uh-huh. Someone showed him an article about this trend… a brony is a boy who likes ponies, specifically "My Little Pony," the cartoon show. With over 180,000 facebook fans, and actual conventions all over the country, I am seriously giggling. And in case you're worried wondering, my husband in not a brony 🙂
Sipping: It all started when I studied abroad in Paris years ago, and that's all I could ever find to drink. I've loved sparkling water ever since! And let's be honest, I pretty much love anything that reminds me of France. I found these on sale this week…
Tea Partying: My girls have been talking about it all summer. We've been busy planning the food and decorations for a "just because" tea party, which we're having tonight. I can't wait to tell you all about it in the next week or two!
Making: Still working on this quilt. I'll be finishing up the tutorials this month for my September Sew-Along Series 🙂
Announcing: It's a wrap! This was a fun contest, thanks to all who participated! Check out the winners!

Congratulating: Briana Richardson… who won the Jo Totes giveaway!
Currently Giving: I've got lots giveaways going on right now! Check these out…
Oh Deer Charm Pack from Southern Fabric
$50 Goodie Box from Pick Your Plum
Featuring:
Some of my favorite things…
You
have
to check out what's inside of this camper from
Crafting in the Rain
.
I planted a zucchini plant this year, and I didn't get one zucchini out of it. What the heck???
But if I did, I would have made this:
Zucchini Relish from the Wilderness Wife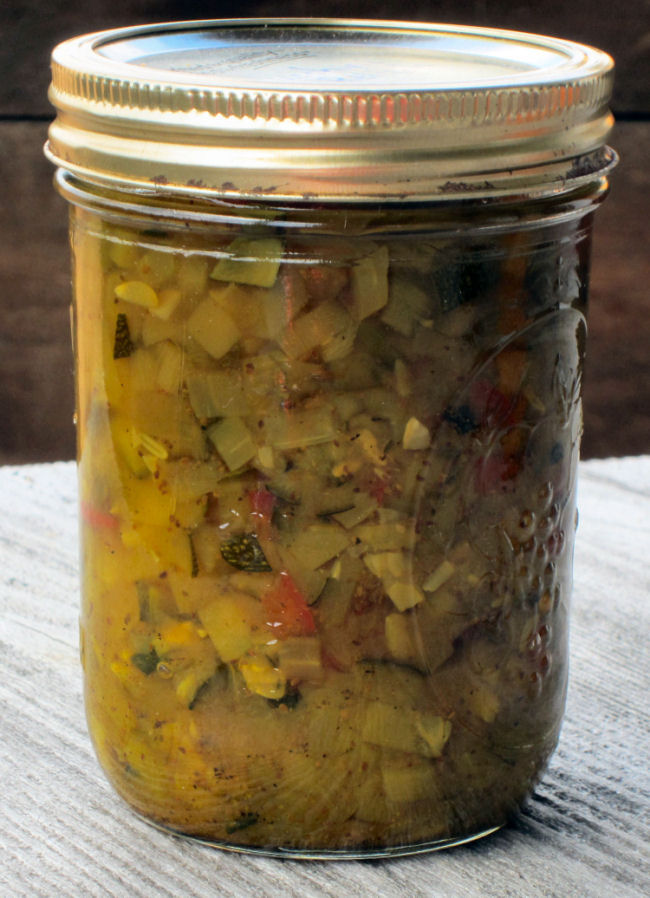 I'm so ready for fall, and kinda loving this bib necklace from Little Treasures.