Yesterday while I was sewing a skirt, I got a little carried away…
And here's what happened!
*for a split second I almost considered chopping off my hair with a rotary cutter. haha, that would be a disaster!
Want to play along? There is one week left!
Link up your own self portrait and you might win a prize from
Pick Your Plum
!
1st prize: $75 Plum Box . 2nd Prize: $50 Plum Box . 3rd prize: $25 Plum Box.
Here's how to link up:
You just need to copy the URL from where your picture is located (blogs, fb, instagram, etc are welcome – use hashtag #picturemedomestic)! Then you'll click the blue "Add your link " button below, and follow the prompts. You'll paste your URL, then title your picture, your email, and choose a thumbnail. The winners will be announced May 30.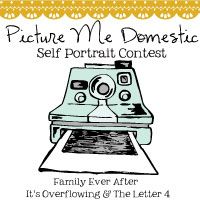 <a border="0″ href="http://familyeverafterblog.com" target="_blank"><img src=http://i1219.photobucket.com/albums/dd436/familyeverafter/Blog%20Design/self-portrait-contest2.jpg></a>