I've never done much to celebrate St. Patrick's Day with my kids, but they are at the perfect ages to enjoy it, so this year, they're going on a leprecaun hunt! While I was sitting at my daughter's dance classes today, I wrote these limericks to go along with the hunt. (The first one is adapted from something I found on pinterest, and then I made up the rest). Each limerick has a space to write a clue. I left that blank, so if any of you want to make up your own clues, you can write them in. (Mine will probably be: make your bed, say your prayers, get dressed, eat breakfast). Then the next paper will be hidden somewhere where they'll find it. The paper will be rolled up and tied with ribbon.
Here's how we plan to celebrate St. Patrick's Day:
(I'm writing all my notes in this post so I won't forget to do something, haha!)
The night before-
I'll help the kids set a "trap" for our leprecaun.
After they go to bed, I'll put green food coloring in the toilets, milk, and whatever else I think of.
I'll make little green "footprint" path (out of green construction paper).
I'll turn over some furniture and leave traces of the leprecaun (confetti?).
I'll hide the "pot of gold" (pot of candy in golden wrappers) somewhere under a "rainbow" (made of streamers).
I'll plant all the clues that will lead to the pot of gold.
In the morning-
I LOVE Irish music, so they'll wake up to it playing downstairs.
The kids will wake up and follow the clues.
They'll probably get sidetracked looking at all the things the leprecaun did!
They'll find the pot of gold.
Food-
Breakfast: Lucky Charms, green eggs and ham?
Lunch: Sandwiches on Rainbow bread, green fruit kabobs
Dinner: Corned Beef and Cabbage, Irish Soda Bread
Dessert: I can't decide between rainbow cupcakes, rainbow cake, mint milkshakes, or my lime cookies!
Decorations-
Click here for more printable decor!
That sneaky little leprecaun is going to create quite the scene around our house. It'll be fun!
Here are the printables. You are welcome to use these for personal use. These are all set to print at 8×10 inches. The download links are at the bottom of this post. All I ask is that you please be a follower of my blog! Thanks!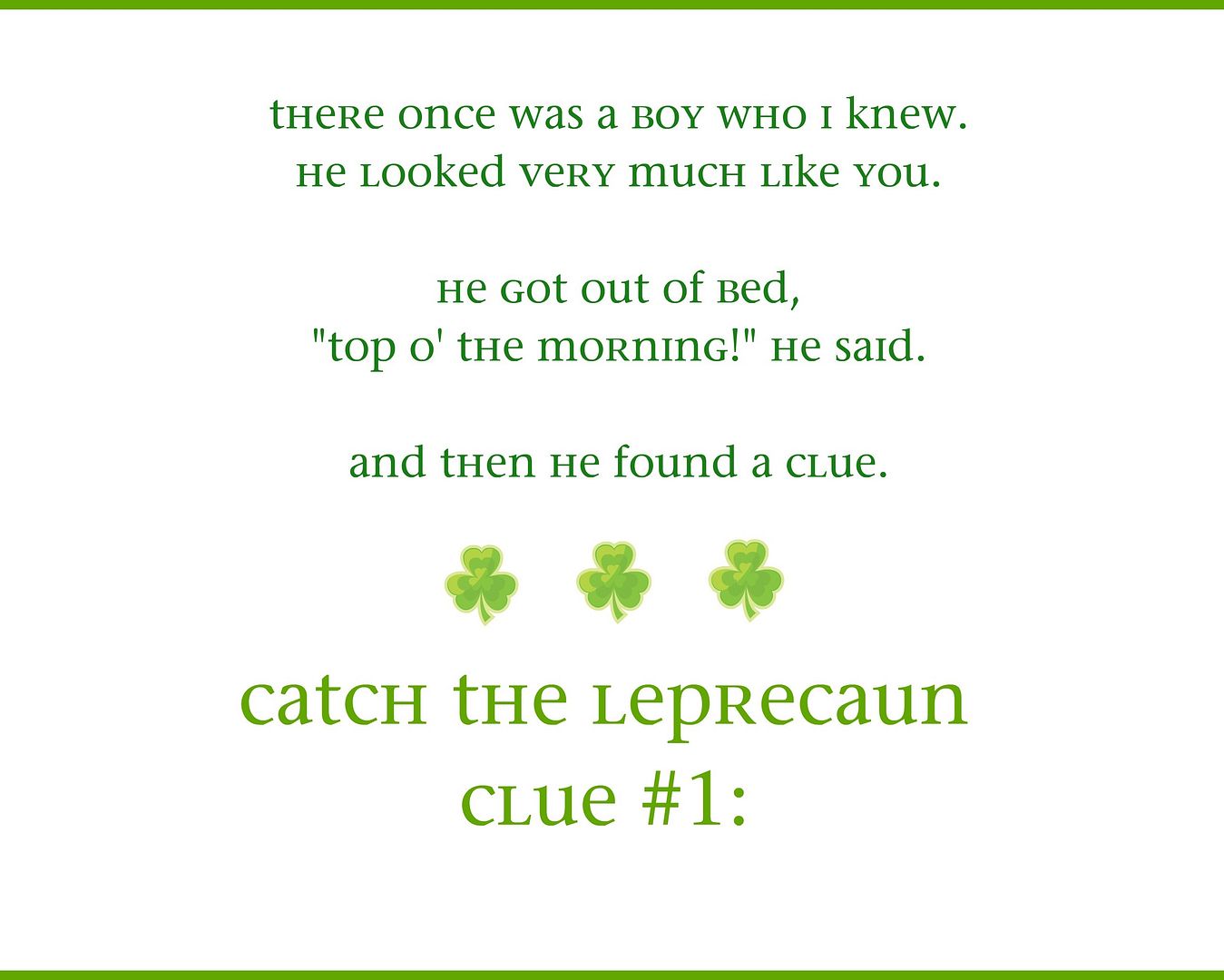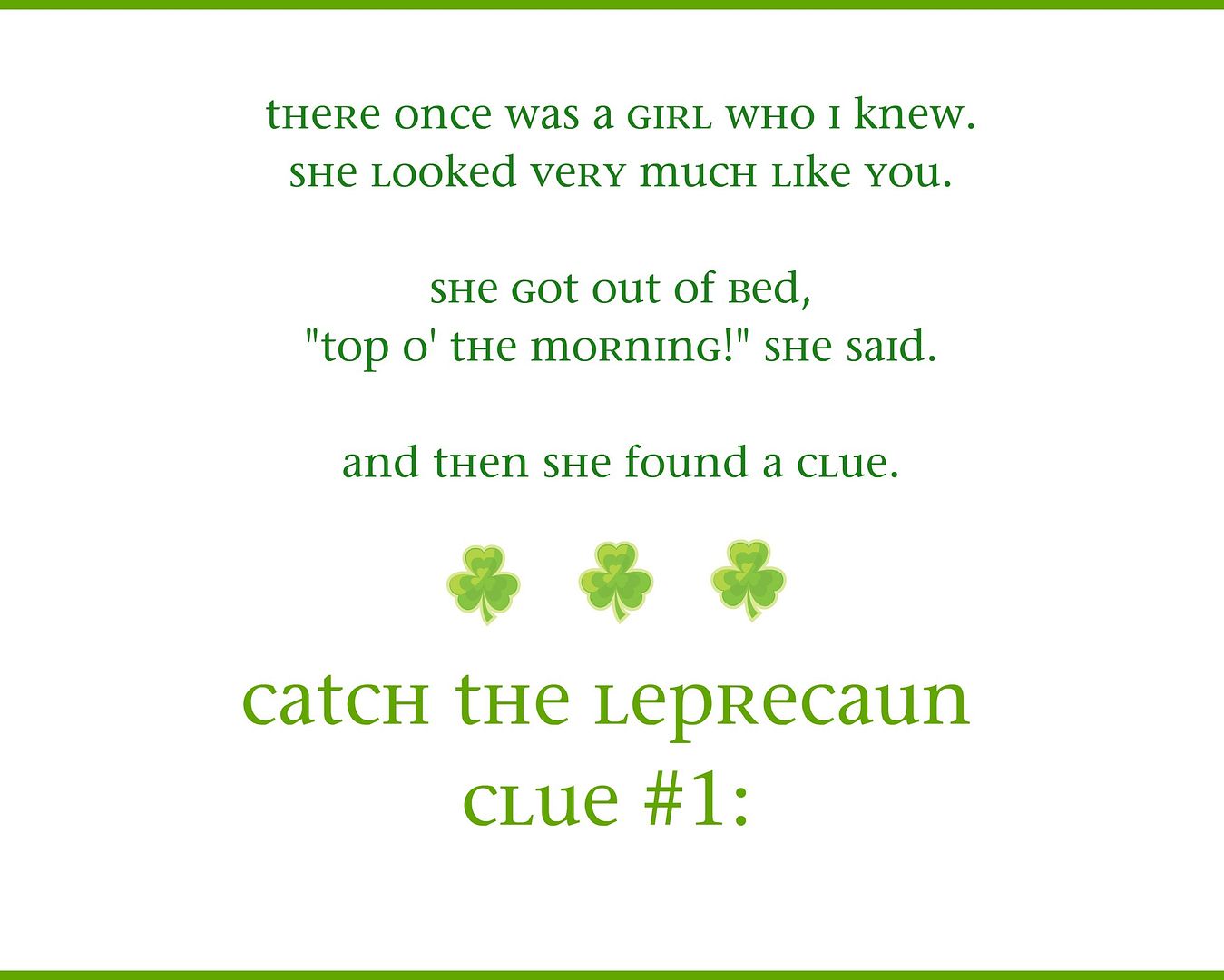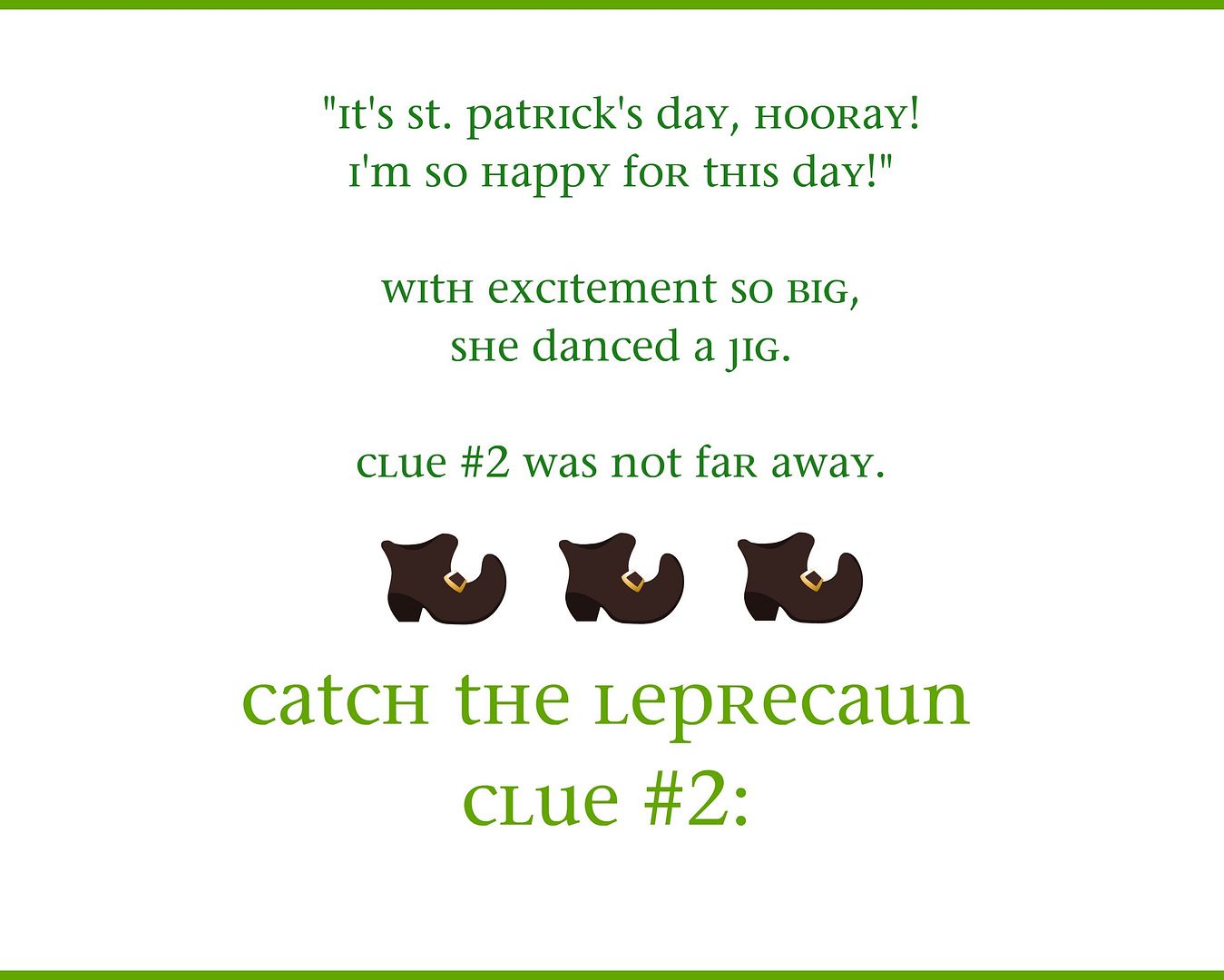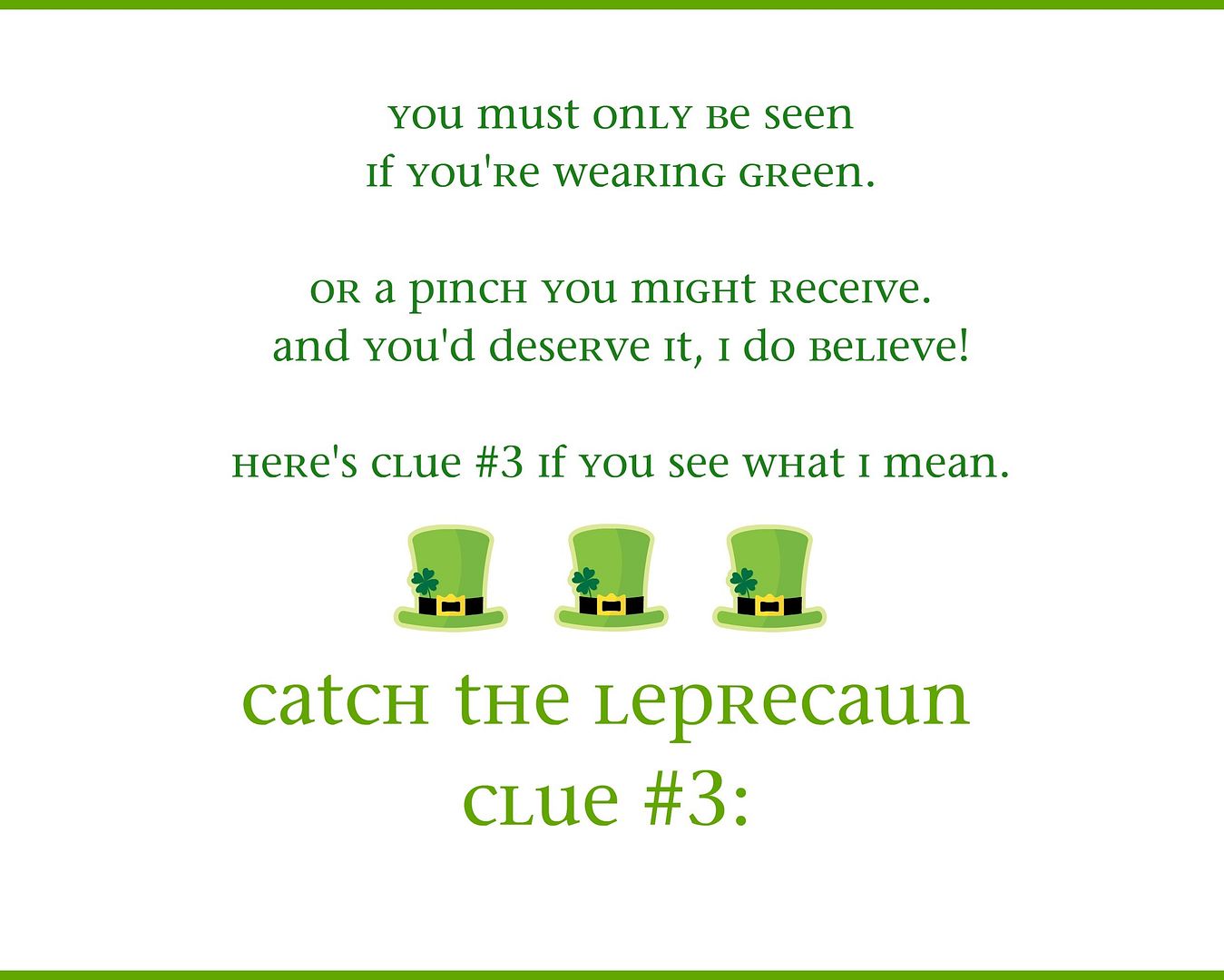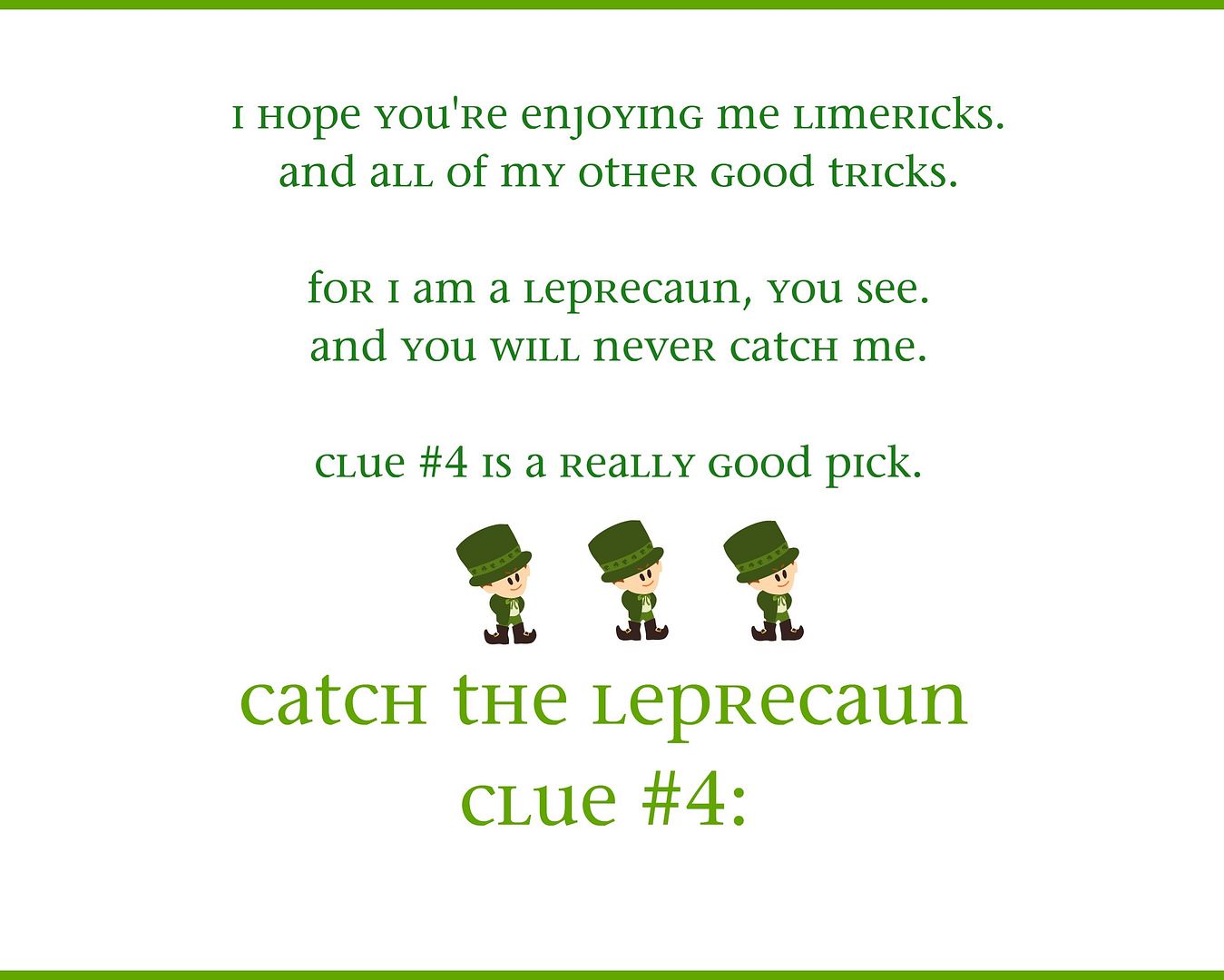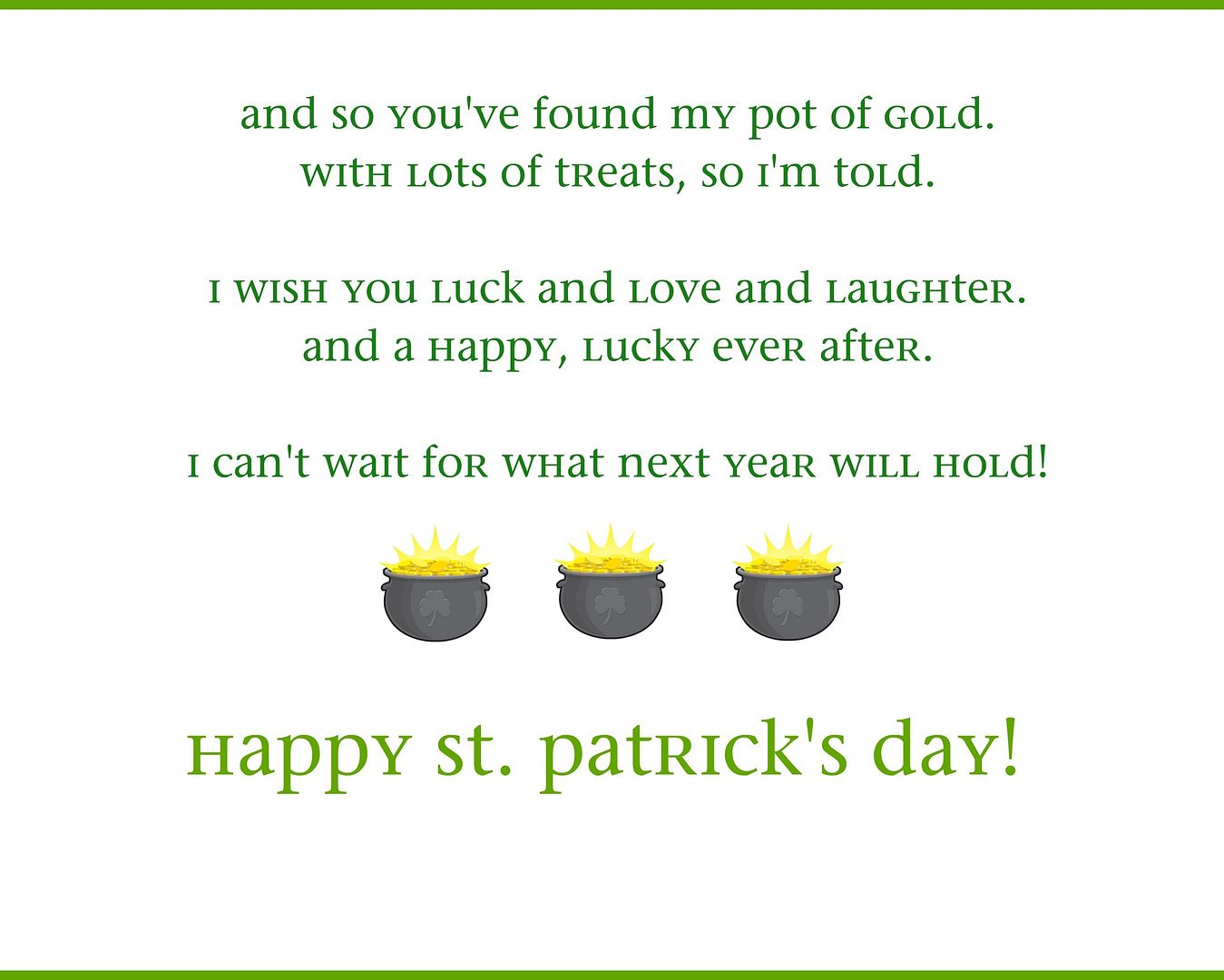 *Before downloading, all I ask is that you follow my blog (via RSS, Facebook, LinkyTools, or the blue Google Friend Connect button on the sidebar). Thanks!*
Catch Me if You Can
DOWNLOAD HERE
Leprecaun
DOWNLOAD HERE
Limerick #1 (boy)
DOWNLOAD HERE
Limerick #1 (girl)
DOWNLOAD HERE
Limerick #2 (boy)
DOWNLOAD HERE
Limerick #2 (girl)
DOWNLOAD HERE
Limerick #3
DOWNLOAD HERE
Limerick #4
DOWNLOAD HERE
Limerick #5
DOWNLOAD HERE