Until Christmas, I'll be having fun guests as part of "Homemade in December."
Anyone is welcome to link up their Christmas Projects at our Christmas Link Carnival.
This weeks' theme on my blog is Sweet Treats, and we welcome Rebecca from My Girlish Whims!
………………………………………………………………………………….
Hello!! My name is Rebecca and I blog over at
My Girlish Whims
. My blog is all about beading, crafting, and general life as a girl!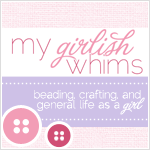 I hope everyone has been enjoying all of Rach's Christmas series here on the blog! I'm so happy to be taking part by sharing some sweet treats.
Before I show you my goodies I have to preface by saying….I know when most of you think pumpkin you think Thanksgiving. Well, I don't!! Haha. In my area, you can NEVER find pumpkin filling in the grocery store unless its October, November, or December. Thus, I enjoy making pumpkin recipes ALL through the holiday season, not just at Thanksgiving!!
Thus I give you…Pumpkin Whoopie Pies with Cream Cheese Filling
Here's how to make them!
In a large mixing bowl mix together 1 cup granulated sugar, 1 cup brown sugar and 1 cup canola oil. Add in an entire jar of pumpkin puree (the larger kind!), 2 eggs, and 1 teaspoon of vanilla extract,
Add to the pumpkin mix a mixture of 3 cups flour, 2 tablespoons of cinnamon, 1 teaspoon baking powder, 1 teaspoon baking soda, 1 teaspoon salt, 1 teaspoon ground ginger, and 1/2 teaspoon ground nutmeg.

Mix together until smooth.
Use a cookie scoop to spoon out tablespoon sized cookies onto parchment paper on a cookie sheet. Bake at 350 degrees for 12 minutes.
While the little whoopies are baking, you can get to work on the cream cheese icing!
In a large mixing bowl, mix together 3 cups of powdered sugar, 8 ounces of softened cream cheese, 1/4 cup of softened butter, and 1 teaspoon of vanilla extract. Mix until most lumps are gone.
YUM. Anyone else REALLY enjoy being able to lick out the bowl after this step?? I so do 🙂
Take your whoopies out of the oven and let cool.
After they have cooled, ice the middle with the cream cheese icing.
Stick another whoopie on top, and you've got a pumpkin whoopie pie!
This recipe uses extra pumpkin so the whoopies are extra moist and delicious. They're so good, you'll want to eat pumpkin ALL year round!
Hope you are all enjoying the other sweet treats! Thanks for having me here Rach 🙂 Don't forget to stop by my
blog
and say hi!
……………………………………………………………………………