In appreciation to those who are followers of Family Ever After, and to celebrate, today I'm doing a giveaway. Thanks you guys for your interest in my blog. It's a fun little hobby, that helps motivate me basically to complete projects around my house and to think of exciting things I can do with my family. I feel like I've finally found my groove, and have learned how to balance time spent blogging with my main responsibilities in life. It's really fun to check in with other craft and idea bloggers throughout the week, to see what you are all up to. It's such a fun niche on the internet, and I've been inspired by a lot of people. I really appreciate the comments and connections I've made as a result of this little blog.
I want to feature my 100th follower. Meet Abby from My Yellow Sandbox. I found her blog a few months ago, right before she started her 30 Hairstyles in 30 days. She has gorgeous and very cooperative hair, and really knows how to take care of it and style it well. I have loved being inspired with new ideas for my hair, and also witnessing the huge and extremely quick expansion of her blog! Be sure the check it out, especially if you're looking for new hairstyles! Thanks for becoming my #100 Abby!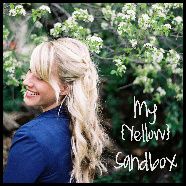 Tomorrow I'm going to talk about some of my favorite hair blogs and post a few pictures of new hairstyles I've learned because of them!
Now for the giveaway… since we're talking about hair, I'm giving away 6 different hair accessories I've made. I wear accessories in my hair all the time. So these can be for you, for a friend, a daughter, or given as a gift.
No rules this time, just leave a comment if you'd like to enter!
Giveaway ends Tuesday August 9th.
Thanks again for your interest in my blog!!!
If you don't already follow, feel free!
Linked here.